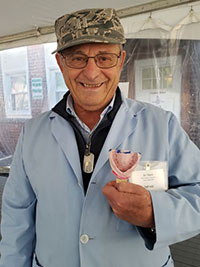 Last year, we lost our dedicated, compassionate, and vibrant Dr. Gene F. Napoliello, who served as our Foundation Chairman for decades. Anyone who knew Dr. Gene, as he was affectionately known, knew his passion for oral health care for all.

After Dr. Gene retired from his private practice, he volunteered his time providing no-cost dental care services to countless people in need – most notably at our annual Smiles for Our Heroes event serving our nation's veterans at Zufall Health and the Connecticut Mission of Mercy, an annual two-day clinic where people traveled from across the tri-state area to receive free dental services.

Dr. Gene also had a passion for supporting and encouraging youth to purse dental careers. He served as the NJ State Advisor for HOSA for eight years, which brought him great joy and purpose. HOSA is a student organization that focuses on students preparing for careers in health and other allied medical professionals. Participating students, through their local chapter, learn and practice leadership development, academic and technical skills, and community involvement. Last year, Dr. Gene's HOSA students created a video that truly encompasses his spirit, which can be viewed below.

This year, in memory of Dr. Gene, we will be awarding Dental Assisting Grants as part of our SMILE grants. These grants focus on establishing or expanding dental assisting programs across New Jersey and Connecticut, as well as finding ways to provide opportunities for youth to learn more about dental assisting careers. We are offering these grants to continue Dr. Gene's quest and legacy to support our future health care leaders, in turn, creating greater access to dental care for all.