Winning with the largest network
Delta Dental PPO Plus Premier™ gives members access to nearly 140,000 unique participating dentists! That's more than four out of five dentists nationwide — and 87% participate in New Jersey!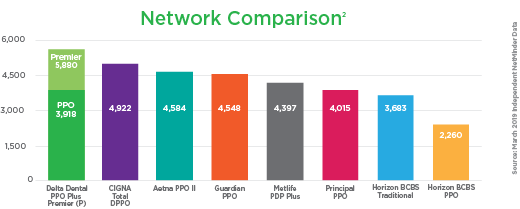 Network Discounts
This unique dual network means greater in-network savings for members through our network discounts. In New Jersey, our average Delta Dental PPO discount is 34.4%, and our average Premier discount is 21%. We work hard to improve our network discounts, as we've grown our Premier discount by more than 10% in recent years.
Our Utilization Rates Outperform the Competition
Network utilization indicates how often members choose to visit in-network dentists. More in-network visits mean more savings, fewer balance billing issues, and an overall better member experience.

We Own 100% of Our Networks

Our Networks Are About More Than Just Numbers

They're also about relationships. We recruit participating dentists ourselves and work hard to keep our networks strong. We also regularly validate our networks to make sure dentists haven't moved or retired.
We Count Dentists. Not 'Access Points.'

What It All Means
How dental carriers represent their network's size matters; every number in our network means an actual dentist to serve your client, not a building or location — and since we own our networks, our members enjoy more stability with their dentists. A large, stable network makes it easier for members to stay in-network — and that means significant savings and a great customer experience for both groups and members!