Funding from Delta Dental Foundation creates new mobile dentistry unit
GLASTONBURY, CT (February 1, 2023) — A $50,000 grant from the Delta Dental of New Jersey Foundation is funding Yale New Haven Hospital's (YNHH) Expanding Dental Homes for Head Start Children program, which is providing pediatric dental care throughout the New Haven community. To meet the needs in the area, as well as solve for the COVID-19 restrictions still in place at local schools, YNHH has converted an RV to provide mobile dentistry to local Head Start children.
"Our goal with this grant is to put children on a life-long path to healthy smiles and, who better to do that than Yale New Haven Hospital," said Dennis G. Wilson, president and CEO of Delta Dental of Connecticut and vice president of the Delta Dental Foundation. "While COVID-19 impacts delayed the start of their program, Yale New Haven Hospital remained committed to developing a solution to bring vital dental services into the Head Start community. We're privileged to be playing a small part in this first step toward providing Head Start children with a dental home and look forward to continuing our partnership with YNHH to achieve that."
YNHH's program will provide preventive dental care and education to children ages six months to five years enrolled in early and preschool Head Start programs. The initial plan was to bring dental care into the Head Start locations; however, due to pandemic restrictions still in place, YNHH was not permitted to provide these services onsite. YNHH developed a solution by repurposing an RV formerly used as a mobile COVID-19 vaccine unit to bring care to Head Start children in the Greater New Haven area. Outfitted with dental equipment and supplies funded by the Delta Dental grant, the RV is where pediatric dentists and residents provide comprehensive dental care to at-risk children. Dental care provided includes dental exams, x-rays, dental cleanings, and fluoride treatments, as well as home care instruction.
"We are grateful to the Delta Dental Foundation for this generous grant," said Dr. Lauren Dibenedetto, DDS, associate program director for the Pediatric Dental Residency Program. "As we all know, the challenges of healthcare access have been exacerbated by the COVID-19 pandemic. With these funds and the support of YNHH, we have been able to create a solution that addresses access while keeping our patients and our community safe."
Just in time for February's kickoff of Children's Dental Health Month, YNHH held a ribbon cutting that celebrated the mobile unit's launch to deliver much-needed pediatric dental care.
In 2022, DDCT donated more than $316,096 to support local organizations maintaining the oral and overall health of more than 15,500 residents in the state, including uninsured and underinsured seniors, intellectually and developmentally disabled adults and children, disadvantaged children, and veterans.
The pediatric mobile dental unit will be making stops to at least 20 different Head Start programs in New Haven and Waterbury over the next year. Media is invited to experience the program at New Haven's LULAC Faye Miller Center at 9 a.m. on February 23.
###
About Delta Dental
In Connecticut, Delta Dental of Connecticut, Inc. is a licensed insurer that writes dental coverage on an insured basis, and Delta Dental of New Jersey administers self-funded dental benefit programs. Delta Dental of New Jersey, Inc. is New Jersey's leading dental benefits company, providing or administering coverage to more than 1.9 million people through contracts with groups and individuals in New Jersey and Connecticut.
Offering dental benefits since 1969, Delta Dental's mission is to promote oral health to the greatest number of people by providing accessible dental benefit programs of the highest quality, service, and value. We are a not-for-profit service corporation and, as a member of Delta Dental Plans Association, we're part of a network that provides national dental coverage to more than 85 million people. For more information, visit https://www.deltadentalct.com.
About Yale New Haven Hospital
Yale New Haven Hospital (YNHH), part of Yale New Haven Health, is a nationally recognized, 1,541-bed, not-for-profit hospital serving as the primary teaching hospital for the Yale School of Medicine (YSM). Founded as the fourth voluntary hospital in the U.S. in 1826, today, YNHH has two New Haven-based campuses, and also includes Yale New Haven Children's Hospital, Yale New Haven Psychiatric Hospital and Smilow Cancer Hospital. YNHH has received Magnet designation from the American Nurses Credentialing Center, the nation's highest honor of nursing excellence. YNHH has a combined medical staff of about 4,500 university and community physicians practicing in more than 100 specialties. www.ynhh.org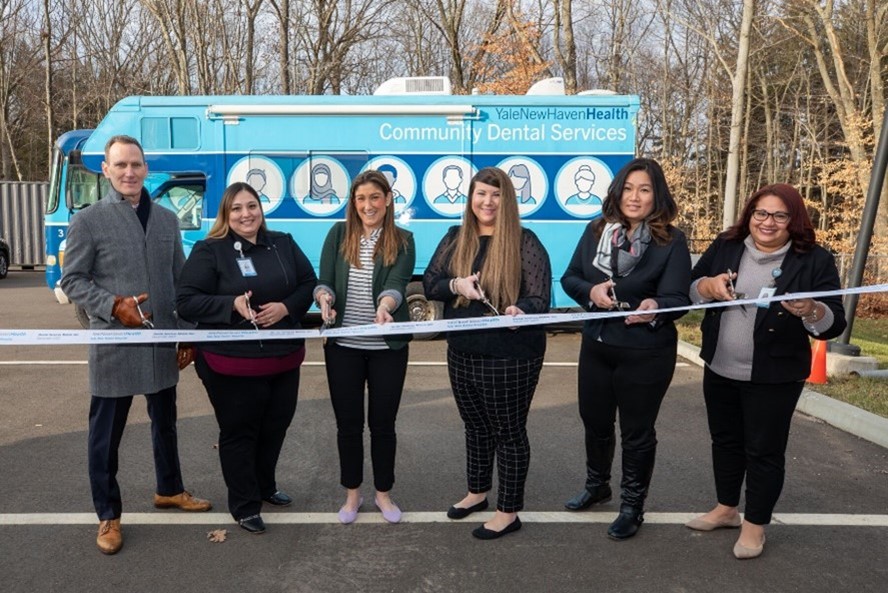 From left: Michael Schaffer, vice president of Ambulatory Care: Maria Alvarado, supervisor for Dental Services; Lauren DiBenedetto, DDS, associate program director for the Pediatric Dental Residency Program; Cassandra Carlin, director of Dental Services; Linda Bouttaphom, clinical manager of Dental Services; and Rosa Flores, infection preventionist.